May 11, 2023
Nine Things I Learned at Tableau Conference 2023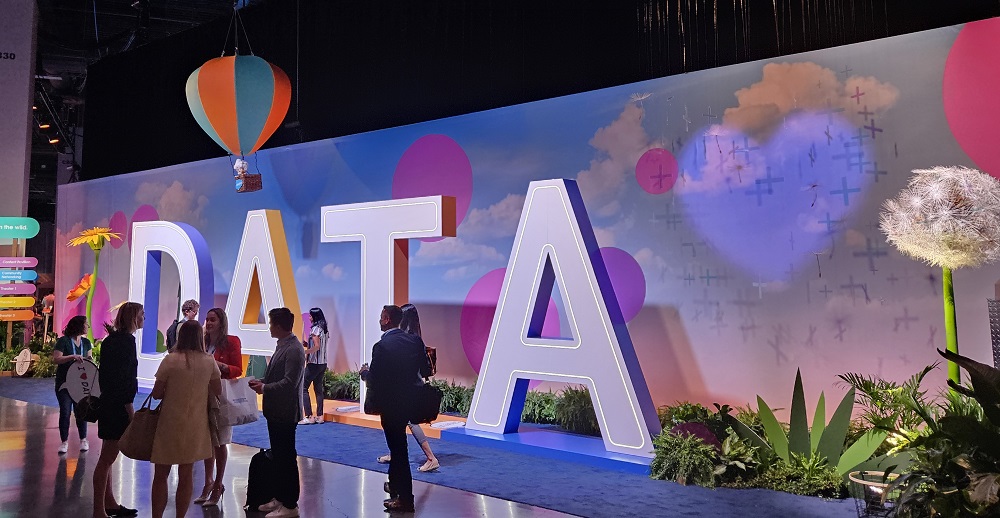 Tableau Conference 2023 wraps up today in Las Vegas after a three-day run, sending thousands of people back to the data sources from where they came. While data camp might be over for now, the lessons will hopefully endure.
Here are nine things I learned about the company while attending the show.
Has a Massive and Loyal Customer Base
Tableau has the sort of huge, engaged customer base that many brands would love to have. When Salesforce bought Tableau for almost $16 billion in 2019, the company had 86,000 customers. That number had increased to 121,000 by 2021, and by one count it now has north of 126,000 customers.
That extended "data fam" showed up in large numbers this week for Tableau Conference 2023, which was held at the Mandalay Bay hotel in Sin City. More than 5,000 people attended the conference, which was twice the figure from last year, the company said. Next year's conference will be in San Diego in May. Can it double attendance again and bring 10,000 to America's Finest City?
Is Almost Drinking-Age
It's hard to believe that Tableau is already 20 years old. When Christian Chabot, Pat Hanrahan, and Chris Stolte founded Tableau as a spinout of a Stanford University computer science project back in 2003, they couldn't have envisioned where Tableau would be now–at the top of the BI heap.
For many years, Tableau was the upstart helping to disrupt established business intelligence vendors. The ease of creating engaging dashboards in Tableau helped it take share from Cognos, Business Objects, and others.  But now, Tableau is arguably the top dog when it comes to independent BI and analytics vendors.
While Microsoft's PowerBI has scores higher in Gartner Magic Quadrants, many enterprises prefer having a BI tool that isn't tied to their Microsoft stack. Tableau says this is part of its "Switzerland" strategy, where it connects equally well to everything. At the end of the fourth quarter, Tableau enjoyed a $2.5 billion in annual run rate, showing the Swiss approach is quite profitable.
Customers Love the Devs – and Pineapples, Apparently
The extended Tableau data fam is fanatical about the product and creating the perfect dashboard to share with their users. So it's natural that they would enjoy learning about the latest updates with the "Devs on Stage" segment of the Tableau Conference keynote.
Pedro Arellano, who joined Tableau as GM and head of product last year, was certainly aware of the phenomenon. During the keynote on Tuesday, the former Looker and MicroStrategy executive shared a story about his first Tableau Conference.
"I was sitting in the audience just like all of you, and I was surrounded by thousands and thousands of very passionate, very excited, very loud people," Arellano said. "And I remember you all losing your minds because somebody on stage showed this little tiny new option on a menu bar. It's like, what is this? I've never seen this before! It made me think about how truly innovative and disruptive Tableau has been over the years. Tableau empowered millions of people from all kinds of backgrounds, different kinds of expertise, to work with data in a way that just wasn't possible before."
This year's Devs on Stage segment was equally off the hook, as Tableau developers shared their work–more than 120 new capabilities (or "Pineapple drops" apparently) in the past year– with an adoring audience of devoted users.
Is Adopting Generative AI and GPT
Like other BI vendors, Tableau is bullish on the potential for generative AI technology such as ChatGPT to help it with its mission to connect more people with data. At the conference, Tableau launched Tableau GPT and Tableau Pulse.
Tableau Pulse is a new user interface for Tableau customers. It utilizes a new component called Tableau GPT, which is powered by Salesforce's Einstein GPT and GPT-3.5 language models, to deliver a Q&A style experience for users. Pulse is able to monitor metrics and pushes plain-English explanations of business changes to users via mobile device, Web apps, or Slack messages when the metrics exceed pre-set values. You can read more about that in "Tableau Jumps Into Generative AI with Tableau GPT."
But Pulse and Tableau GPT aren't the places where Tableau is using generative AI. It's being used "throughout the entire platform," Arellano said, including its data quality component.
Has a New CEO
Tableau got a top boss, Ryan Aytay, on May 2, just a week before Tableau Conference 2023. The company was planning to announce Aytay's promotion from chief revenue officer and president to the CEO spot at the show. But as the company began doing calls to share the news it was planning to release at the show, it realized needed to announce the promotion of the 16-year Salesforce veteran sooner. He retains the president position.
Aytay fills a spot that has been vacant since December, when Mark Nelson stepped down. Nelson had been on the job for less than two years, and was the successor to Adam Selipsky, who left Tableau to become the CEO of Amazon Web Services in March 2021.
Has a Full Data Management Suite
You might think Tableau is just a data analytics and BI vendor. You would be wrong. The company also a full suite of data management tools, including a data catalog, data quality, data prep, data governance, data pipelines, and more. They're widely used, as Tableau said it records an average of 5.8 million data management activities per month.
However, Tableau's data management tools don't necessarily compete with other vendors developing these tools. According to Tableau's Chief Product Officer Francois Ajenstat, Tableau's data management tools are designed primarily for the analyst using Tableau and are not "enterprise" tools designed for more general data management tasks.
"What we've  tried to do is solve the last-mile problem in data management," Ajenstat said in an interview with Datanami. "I'm an analyst. I need to wrangle data together. I don't have time to call IT or call a specialist. I need to do it myself." Tableau also partners with many data management tool providers to ensure that they work well in the Tableau environment, he adds.
Is Investing in Data Literacy
While Tableau is counting on AI to help lower the barrier to entry for working with data, it's also working hard to bolster data skills in the population at large. To that end, at the end of 2021, the company pledged to train 10 million people on data skills over the next five years.
So far, so good.
"I'm pleased to say we've already exceeded our year-one goals," Ajenstat said during the keynote address. "We've already trained 1.9 million people pl in the first year and a half alone. That's amazing."
Not Just About Dashboards Anymore
Tableau may be synonymous with developing pixel-perfect data visualizations, but that's not the only data modality the company is after. For starters, Tableau Pulse represents a radical departure from the full dashboard approach. The new VizQL Data Services is another.
VizQL Data Services essentially unhooks the VizQL data engine from the Tableau visualization. It's a "headless BI" approach that's designed to give developers more freedom to create new user interfaces powered by the VizQL engine.
"You can create a brand new way to interact with Tableau that's not about drag and drop or vizzes," Arellano said. "Maybe you have some automated workflows and you want to infuse Tableau VizQL engine into those workflows. Maybe you have a chatbot that interacts with Tableau. You can do all these things now with VizQL Data Services."
Has a Data Cloud
The company is also making moves with its data cloud. Unveiled last year and powered by Salesforce, the Tableau data cloud is designed to serve as a central repository for customer data. But it's not limited to customer data, and in fact can virtually pull in data from Snowflake and (now Google Cloud BigQuery) through its zero-copy functionality.
"Data Cloud lets you do amazing things," Ajenstat said. "It lets you combine data together from hundreds of sources. It then lets you harmonize that data int a single source of truth so you can model it all in one place. And you can then use that data and enrich it with rich algorithms with AI built-in."
Whether it's developing new solutions in cloud or AI or just helping users create a new type of viz, Tableau appears eager to deliver what its six-digit customer base wants. That's a recipe for success, no matter what new technology emerges over the next 20 years.
Related Items:
Tableau Jumps Into Generative AI with Tableau GPT
Which BI and Analytics Vendors Are Incorporating ChatGPT, and How
Salesforce Goes All-in on Generative AI with Einstein GPT, Integration with OpenAI