Whitepapers
Datanami's white paper database contains reports from the leading thought-leaders and idea generators in the Datanami industry.
In an increasingly urban world, there's a real need for municipalities to become smarter. They have to become more efficient, innovative, sustainable, and responsive to the needs of stakeholders.
Our new smart city ebook explains how open data fuels smart communities, providing in-depth use cases and strategies for success. Read more…
In today's data-driven world, database technology is critical for business success. Apache Cassandra is frequently the database of choice for many organizations due to its scalability, reliability, and performance. Specifically, organizations use Apache Cassandra when they need to analyze data and derive insights to reduce operating costs, quickly react to new business opportunities, improve customer engagement, detect and prevent fraud, minimize downtime and outages, and more. Read more…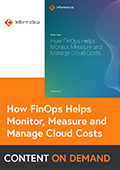 Companies have made massive investments in cloud technologies. Yet only 15% of organizations can establish a clear relationship between their cloud investments and business value.
Ensure you're getting the most value from your cloud investments with FinOps. Read more…
Omdia view
Microservices decouple components in an application, making it easier to build resilient and robust applications that can scale out rapidly and back to zero depending on demand. Read more…
Building a fintech app? We've been there.
We built a whole exchange, actually. We took what we learned from building IEX Exchange and built Apperate, the complete data streaming platform for finance. Read more…
Today's business environment is flooded with data, and it's moving through the business in ways that it never could before. Now, cloud data platforms like Snowflake or Amazon Redshift offer anyone the ability to host and analyze data on the cloud with just a credit card and a spreadsheet. Read more…
Build Data Strategies That Drive Real Change
Let's face it. CIOs are legends. Magicians even. They're pivotal to accelerating data-driven business transformation, enabling teams to improve CX and edging out the competition. Read more…
Inside the Minds of 800+ Data Leaders
As a data leader, you're trusted to connect the dots on your company's data and build the backbone of data intelligence to drive business success. Read more…
Become an Expert at Modern Data Architectures
Are you ready to take full advantage of modern data architectures? Getting started with modern data architecture often starts with moving some or all your data from on-premises to the cloud. Read more…
From case studies to compliance guides, Immuta's new bundle shares the challenges and best practices in the HCLS industry on balancing data usability and compliance. Read more…